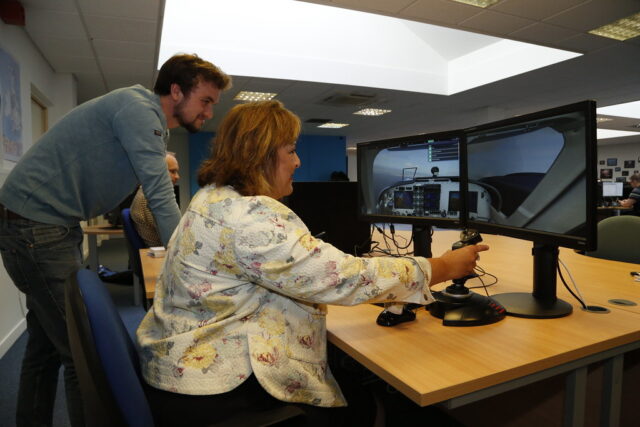 We are constantly breaking ground in so many different sectors has created some fantastic opportunities for us. Adding to this is that Scottish workers enjoy an excellent work-life balance and a short commute time, which make it easy to start or kick-start your career.
Moving to a new country is also a pretty big deal, and there are many things to consider before you move. Luckily, we've got you covered and have put together a handy list of things you should consider before working in Scotland.
Things to consider before working in Scotland
1. Are you able to work in Scotland?
People worldwide are warmly welcomed in Scotland, which is renowned for its friendly atmosphere. When you have the right skills and, in some cases, the correct visa, you can work there.
If you plan to join us from the European Economic Area or Switzerland, you will not require a visa to live and work in Scotland.
A visa is required if you are traveling from outside the European Economic Area. You can choose from various types of visas depending on your specific situation.
2. Is working in Scotland a good investment?
Let's begin with your vacation time because we all know that all work and no play is tedious and harmful for you. Your hard work in Scotland will be rewarded with a generous amount of paid time off!
The holidays – also known as annual leave – are based on your working days. Generally, you're entitled to at least 28 days of paid holiday a year if you work full-time, five days a week. However, some companies offer more.
Those who come to work in Scotland say that the excellent work-life balance is one of the best things about living here and fantastic holiday benefits.
American Gabriel West, who works for the Amazon Development Centre in Edinburgh, said:
"I'm very impressed by how people have this modern idea about how much time they should spend at work and how much time they should spend doing home life things."
Read more:How To Move To Spain? Everything You Need To Know
In addition to its highly regulated, good working practices and conditions to safeguard employees, Scotland also has high staff retention rates and the highest employment rate of the United Kingdom's four countries.
3. Which companies are in Scotland?
It's good to know you're not the only person considering working in Scotland. We are home to thousands of innovative companies for you to choose from, including global giants like Amazon, Morgan Stanley, and Hewlett-Packard, and homegrown successes like Sky scanner, pro-life, and 4J Studios.
Whether you're looking for a role with a Fortune 500 company or you want to get in early with a small start-up, you'll have a range of options.
4. Do you know how to find jobs?
There are a lot of job opportunities in Scotland since there are so many different companies. The country has a lot of jobs for people with the necessary skills.
Whether you're looking for a job in technology, engineering, science, or business growth and leadership, you can find exciting job opportunities at Talent Scotland.
Interested in a different sector? There are many job sites where you can find career opportunities in everything from finance and education to healthcare and gaming.
5. What support can you get to help you make a move?
Talent Scotland can help you make your dreams of working in Scotland a reality. Have a question about visas and immigration? Their website can point you to the information that you need. Want to know what it's like to live here? They can help with that too.
Want to hear what it's like to move here from someone who has already done it? Talent Scotland can put you in touch with international workers who can help with any practical questions you might have about moving to, living in, and working in Scotland.
Downtime and leisure while working in Scotland.
Despite your working schedule in Scotland, you'll still have plenty of time for leisure – luckily, Scotland is full of amazing things to keep your evenings and weekends full. During the summer months, Scotland also enjoys 17 hours of daylight, meaning that even after a long day at work, there is still enough time to stroll on the beach or in the countryside.
You have a massive amount of choices in Scotland for things to do in your free time, no matter your interests. Experience the sights and sounds that made us 'The Most Beautiful Country in the World' and soak up the very best in sports, live music, performances, and culture.
Scotland has played host to several major international events in recent years and has developed a reputation as a top-class hospitality destination.
As well as hosting what has become known as "the best" Commonwealth Games in Glasgow in 2014, we've recently hosted the Champions League Final for football, the Rugby World Cup and European Cup for rugby, the British Open for golf, and the European Championships for athletics. Our trend continues in 2021 when we welcome Europe's football elite for a series of matches during the UEFA European Championships.
Additionally, Scotland frequently hosts some of the world's biggest bands and is a common stop on most of the world's most extensive tours.
Is it difficult to find work in Scotland?
Scotland provides it quite simple for immigrants to get employment, regardless of the job they apply for. You'll find a tonne of jobs awaiting on you whether you intend to migrate to Scotland permanently or momentarily to live and work here.
FAQs (Frequently Asked Questions)
Apart from this if you are interested to know more about then visit our
Apart from this if you are interested to know moret then visit our TRANSPORTATION category.
category.