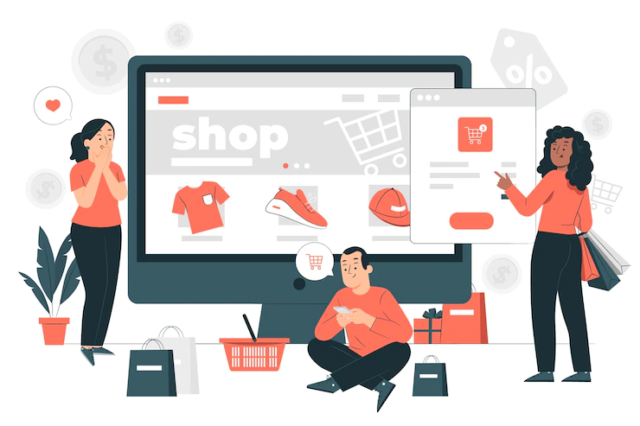 When the matter is about choosing the right website building platform for an E-Commerce business, most aspiring entrepreneurs get confused between WooCommerce and Shopify. Which website building platform will help them get the best results?
But, before we start comparing both the E-Commerce platforms, let us first have a clear idea of WooCommerce and Shopify?
WooCommerce is the go-to open-source plugin for budding online entrepreneurs who choose WordPress platforms to develop e-commerce websites. Shopify is one of the best website-building platforms for your e-commerce that a user can easily self-host.
Some of the main points of comparison are as follows-
Payments Required for Each Platform
In Shopify, the availability of building an e-commerce website is much cheaper when compared to WooCommerce as it provides a complete package needed to self-host your e-commerce website at affordable prices, including- themes and templates. All the pricings of using designs and templates are free, but in WooCommerce, the platform itself is free, but if you avail domain, theme, self-hosting services, templates, every little thing is chargeable.
But when you look into this carefully, the expenses are almost the same with Shopify plans and the WooCommerce plugin.
Content Management
Creating content for your e-commerce website is a regular task to keep your web visitors intact and create an interactive session for them. For this, you need to post enticing blogs, articles, and product descriptions in detail with a vibrant touch.
With WooCommerce, you can create and post-professional blogs and articles and easily manage the page as it is WordPress plugin with enriched features tagging your users and customers. You can align these posts in your online storefront to display your brand image.
With Shopify, you can easily create and manage posts without much effort or time. It is a standard feature with user-friendly handling of blogs that you need to post for your customers and web visitors.
Design and Templates
Every e-commerce website needs exciting themes and templates to manage all the content. Both WooCommerce and Shopify offer a variety of themes that you can choose from as per your choice and taste of how you want to represent your brand.
In WooCommerce, there are thousands of templates carefully designed by web developers and freelancers that give you a corporate touch to soothe your online business. Shopify does not have a lot of variance in its 73 templates where even 9 templates are free. Here the templates are more vibrant and have a lot of color palettes.
Inventory Management
Every e-commerce website needs to manage its inventory properly using proper tools. Both Woocomerce and Shopify offer the same to you with a little difference under the hood.
WooCommerce has various robust tools where you manage your products in bulk at once without any limitation to the number of products you would like to create for your e-commerce or how you manage it. There are various iterations like you can generate reports, stock checks, sales, and purchase reports, customer-oriented product lists, and so on.
Whereas on Shopify, you easily self-manage your inventory with a detailed inventory tracking system included in this platform like stock alerts, product access reports, stock access by customers, tracking product orientation, tracking orders, and so on.
This way both of these website building platforms have head and head features that will bring out the best of your brand.
Payment Gateways
Payment Gateways are where your web visitors become your valuable clients for the future. Both of these website-building platforms have been tested to offer a seamless check-in and checkout experience.
WooCommerce has been tested and tried with PayPal, Stripe, and other popular payment gateways which you can easily add with add-ons. There are no extra expenses involved except the transaction fees here.
Shopify supports thousands of payment systems and gateways which depend on your monthly package. It will help you sync in with your inventory automatically and is controlled by international and regional pricing modules.
Dropshipping
Dropshipping is a new method introduced in the e-commerce platform where the business owners or retailers buy their inventories or stock directly from their supplier and then deliver it to their end-user or customer. This way you can easily manage your inventory and keep your business going. Both WooCommerce and Shopify support this system through other dropshipping companies with robust features and complete your store management system.
Page Speed
Every website should not take more than 3 seconds while loading. If your website takes longer to load, you may lose your visitors and even your customers. In recent studies and analysis, it is proved that WooCommerce is longer to load which is 776 milliseconds whereas Shopify only takes 309 milliseconds to load. The page loading time should not be more than 500 milliseconds as recommended by Google.
So overall, Shopify exceeds WooCommerce in the page loading time.
Security Control
Security is an important aspect of every e-commerce website. In WooCommerce, your website security control lies with you and how you manage your e-store and website using proper interface but in Shopify, as it is a tailored website building platform, it outperforms WooCommerce in this aspect. In Shopify, all security control, protocols and updates are duly undertaken by this platform and you self-host in relaxation.
Ease of Operation
A website must be easy to handle and should be easily manageable by you. While considering ease of operation for both platforms, each has its positive side that blends with different users.
WooCommerce is a WordPress plugin, and therefore to use WooCommerce, you need to install, create a domain, sign up with hosting services and then install your choice of theme.
WooCommerce is a bit complex and needs some basic knowledge of the users. Some of its complex features include backup, restoration, security, theme, extensions that require a web developer to handle and maintain. WooCommerce requires a professional touch for professional e-commerce websites.
But with Shopify, everything comes with ease. Shopify targets small business owners and aspiring entrepreneurs because it is an easy-to-use platform where you don't need any coding knowledge. You can easily sign and choose from the pre-existing themes and start clicking.
Therefore, both of them target a different audience and provide the best of both worlds.
SEO Rankings
SEO is the best gateway to reach your audience and target potential customers to visit your e-commerce website. Optimized SEO secures frontline recognition and helps you penetrate the market easily. Every website building platform needs to match some criteria such as – SSL certificate, auto XML sitemap, 301 redirects, and app plugins for SEO.
As WooCommerce is a WordPress plugin, it has the most data-rich SEO interface for your audience. You can use meta descriptions, target keywords, product-oriented tags, meta tags, geotags, alt tags, URL redirections, hyperlink website visiting, and so on. This way you can optimize your SEO rankings and increase your rank in the Google SERPs.
In Shopify, it has a rigid URL category that needs to be maintained therefore some subsections of using SEO at its best are limited. URLs cannot be modified here. Here, there are simple SEO tools that can be used without going into detail.
Support System
Customer support and management are very part of creating a smooth bridge between you and your customer. WooCommerce does not support customers and visitors 24×7 like live chats, customer care help, email, queries, and phone calls whereas Shopify supports everything using AI and other extensive tools.
Add-ons and Extensions
Both WooCommerce and Shopify offer third-party integrations using add-ons and extensions as per your need. You can easily add them like promotional and analytical tools, digital marketing, and so on. Both of these website-building platforms support a variety of marketing, analytical, digital, business, product-oriented tools that will help synthesize your online business and offer a seamless experience to its users.
Scalability of the Website
You can easily sync your e-commerce website with other platforms to reach a global audience. Both WooCommerce and Shopify can synergize with other platforms and you can use this for your brand and business. You can sync with Facebook, Instagram, Amazon, Pinterest, Google in just a few steps.
WooCommerce does not support Google shopping but you can easily use the Point Of Sale (POS) system on your website.
Whereas Shopify can easily blend with Pinterest, it does not support the POS system. But both of these will help you increase your yield and engage your customers more with your brand.
Finally, before ending, we can say that both Shopify and WooCommerce have their own set of advantages and disadvantages. The decision is yours which you want to choose for your E-Commerce business. And, for any professional help or advice related to website design and development, you must always reach out to expert website developers of the most reputed website design and development companies and elevate your business to the next level.
Apart from this if you are interested to know more about then visit our SMALL BUSINESSES category.